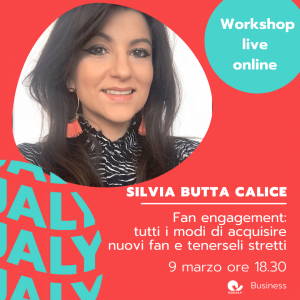 Silvia Butta Calice
Fan engagement: tutti i modi di acquisire nuovi fan e tenerseli stretti (workshop Business) 
9 marzo 2022 ore 18:30
Parliamo della verità dietro a una buona digital strategy per tenere tutti interessati, soprattutto se stessi.
Cosa c'è dietro una digital strategy di un'artista?
Quanto è importante il personal branding per il rapporto con i fan?
Quali sono i canali social su cui puntare?
biografia
Dal 2010 nel campo della comunicazione, si specializza nell'area digital marketing e della social media communication. 
Nel 2013 entra a far parte del mondo della musica iniziando a lavorare con Vivo Concerti nella promozione degli eventi live nazionali ed internazionali.
Nel 2018 fonda Orbita, agenzia di comunicazione out of the box, che si prefigge la mission di costruire piani promozionali a 360° su misura per lo show business.